this season at Selwyn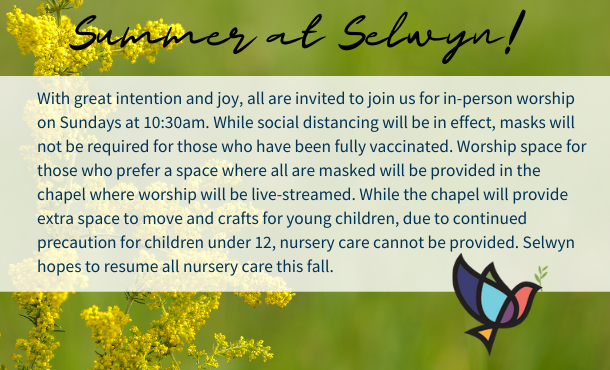 Summer Preaching Series:
Sunday, June 13 kicked off our summer preaching series, Proverbs and Parables. If you missed earlier Sermons, listen here: Past Sermons
No matter where you are, Jesus will meet you there. We may have been separated but we are coming back together -- our SAPC Community, friends & family!

Join & walk with us:
Worship with us virtually every Sunday, 10:30am, in person or on Facebook Live.

Listen & reflect on Selwyn's weekly Faith Lab Podcast (each Thursday), which will preview the text for upcoming Sunday's worship.

Join our weekly Adult Summer Sunday School Study at 9:30am in the Parlor. Join us for Summer Stories: The Parables of Jesus, hybrid class in the Parlor and on Zoom using Amy Jill Levine's book entitled, "Short Stories by Jesus". Contact John Lemmon.
Small Groups Youth Group Our BlogPodcast Mission Past Sermons
Worship/Sunday

Join us at 10:30am on

Facebook

Live or in person.

We will also email a link each Sunday at 10:15am to join.

Bible Studies

Pastor's Bible Study

Wednesdays, 10am

• ZoomGrace Class

2nd & 4th Sundays, 9:30am

Life Class

1st & 3rd Sundays, 9:15am•

Zoom LinkCovenant Class

Sundays at 9:30am

Mission: Hunger & Children

Roof Above: We need volunteers each month to help make lunches for our homeless friends.
Ways to Give
TEXT to Give


1. TEXT (704)734-9818
2. Enter the gift amount or the word 'Give' or a Keyword*
3. If it's your first time, you will be prompted to SHELBY to confirm set up. After that, you can text the amount to the number.
Keywords to Use:
GIVE • COVID (Mission Fund) • 75 (Anniversary Fund)