this season at Selwyn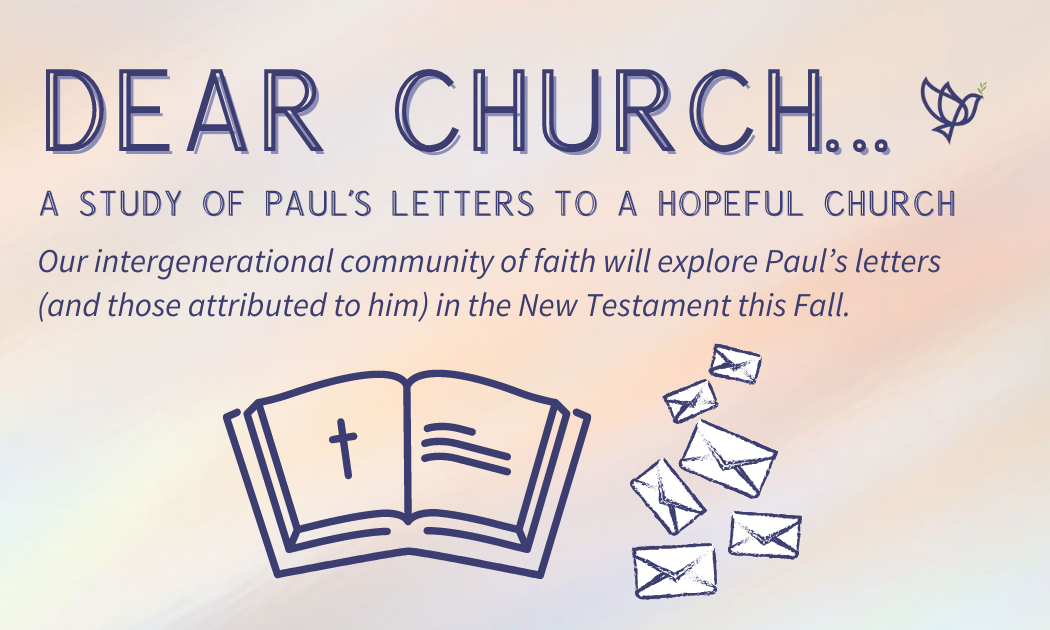 Preaching Series this Fall:
A letter of encouragement, wisdom, or even correction is an investment, an intentional act of concern and care for another. A letter conveys something personal and powerful that often stands the test of time and space. A letter takes as much time to craft as it takes to read. A letter is something to hold onto and digest at your own pace.
The Apostle Paul was a letter writer. Each canonized epistle was written with great purpose. Some were written to individuals asking for help, and others were sent with instruction to a struggling community. In every case, Paul reminds the recipients to whom they belong while offering a word of hope for a joyful future in Christ.
In an age of texts and tweets, when all of us are remembering what it means to belong and be together, the title of our fall preaching and teaching series is, 'Dear Church...' Our intergenerational community of faith will explore Paul's letters (and those attributed to him) in the New Testament. Some are encouraging, others are challenging, and a few are confusing! In every case we will discover a word of hope and encouragement for folks like us who seek to belong and to be known, united in Christ, as the Church.
As we look ahead, ready to consider what it means to 'be The Church,' we invite you to join us in worship and study.
There is a pastor's bible study Wednesday on ZOOM.
When: Every Wednesday (11:30am-12:30pm)
September 13th- November 15th.
Zoom Link Meeting ID: 890 9784 3654 | Passcode: 370876
Join & walk with us:
Worship with us every Sunday, 10:30am, in person or on Facebook Live.

If you missed earlier Sermons, listen here: Past Sermons

No matter where you are, Jesus will meet you there.
Small Groups Youth Group Our BlogPodcast Mission Past Sermons
Worship/Sunday

Join us at 10:30am in person or

Bible Studies

Adult Sunday School at 9:30am.

Selwyn Life Class meets in the library.

All other adult classes will meet in the Fellowship Hall for a combined study and discussion of The Gospel of Luke.

Men's Group weekly on Fridays, 7am.

Mission: Hunger & Children

Roof Above: We need volunteers each month to help make lunches for our homeless friends.
Ways to Give
TEXT to Give


1. TEXT (704)734-9818
2. Enter the gift amount or the word 'Give' or a Keyword*
3. If it's your first time, you will be prompted to SHELBY to confirm set up. After that, you can text the amount to the number.
Keywords to Use:
GIVE • COVID (Mission Fund) • 75 (Anniversary Fund)