this season at Selwyn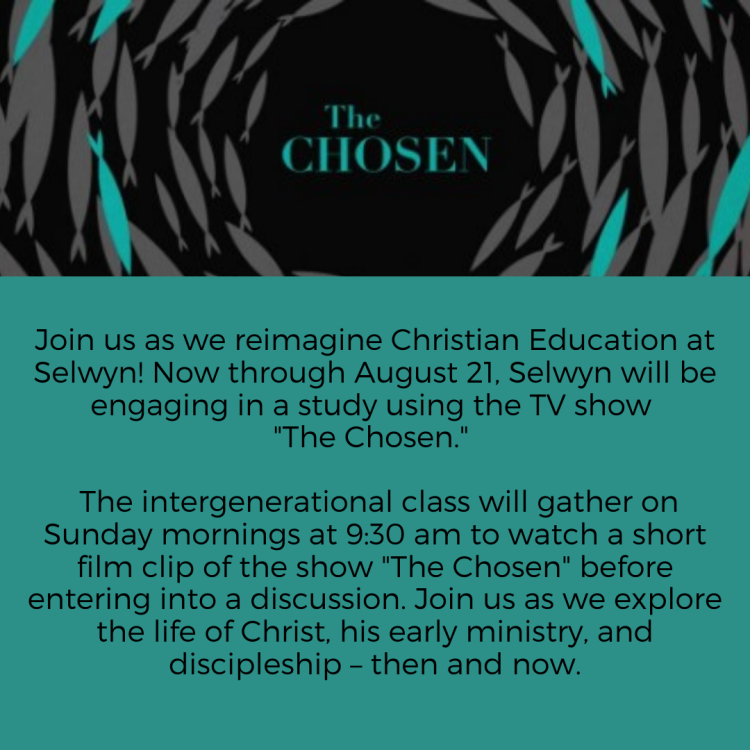 Preaching Series:
Now through August 21, Selwyn will be engaging in a study using the TV show "The Chosen." Watch Season 1, Episodes 1-8 here.
The intergenerational class will gather in the parlor on Sunday mornings at 9:30 am to watch a short film clip of the show "The Chosen" before entering into a discussion.
Join us as we explore the life of Christ, his early ministry, and discipleship – then and now. If you missed earlier Sermons, listen here: Past Sermons
No matter where you are, Jesus will meet you there.

Join & walk with us:
Worship with us every Sunday, 10:30am, in person or on Facebook Live.
Small Groups Youth Group Our BlogPodcast Mission Past Sermons
Worship/Sunday

Join us at 10:30am in person or

Bible Studies

Adult Sunday School at 9:30am.

Selwyn Life Class meets in the library.

All other adult classes will meet in the Fellowship Hall for a combined study and discussion of The Gospel of Luke.

Men's Group weekly on Fridays, 7am.

Mission: Hunger & Children

Roof Above: We need volunteers each month to help make lunches for our homeless friends.
Ways to Give
TEXT to Give


1. TEXT (704)734-9818
2. Enter the gift amount or the word 'Give' or a Keyword*
3. If it's your first time, you will be prompted to SHELBY to confirm set up. After that, you can text the amount to the number.
Keywords to Use:
GIVE • COVID (Mission Fund) • 75 (Anniversary Fund)