Opportunities to Serve
Selwyn members engage in mission through deep relationships and partnerships in three focus areas: CHILDREN IN NEED, HOMELESSNESS and HUNGER. To learn more, contact our Parish Associate Lisa McLennan. We invite you to join us as we serve God by serving our neighbor.
Montclaire Elementary School Partnership
Selwyn members support the needs of children at Montclaire Elementary School in four major ways: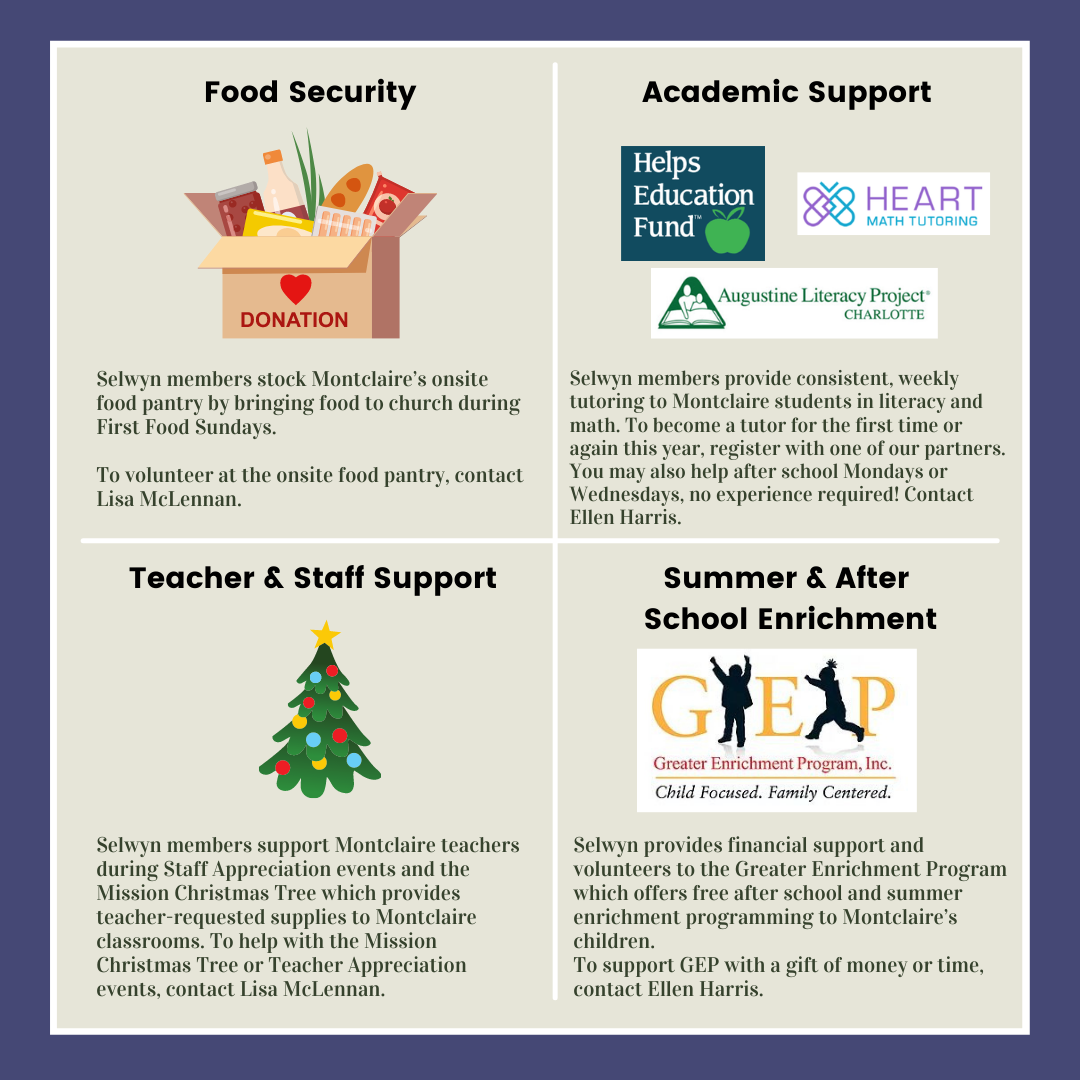 Contact: Ellen Harris, Lisa McLennan

Food Pantry: Montclaire has a new onsite Food Pantry, and Selwyn helps stock it by taking donations the first Sunday of each month.
After-school Program GEP Afternoon Helpers

GEP, Montclaire's after school partner, would love to have some extra folks to help with afternoon activities and homework time. No planning or experience required! Come spend the best afternoon of your week with the kids and adults at GEP!

Augustine Literacy Project & Heart Math: Tutoring programs & classroom support

Anyone interested in attending a future information session can register here.

ALP tutors work one-to-one to help low income children who are struggling to read. Learn more by contacting Helen Hope Kimbrough.

Heart Math Tutoring is moving to a virtual volunteering format for the 2021-22 school year. Click here for updates. If you have an interest in tutoring virtually, please sign up using this form so that Heart can keep you informed.

Contact Sarah Cover to learn more.

Homelessness

Habitat for Humanity: Come help provide homes for needy families on Selwyn's Habitat Day October 30! There are opportunities to build a house or work at ReStore (whose profits all go toward building houses). Volunteers are also needed to make lunches and provide help at Camp Habitat for kids. Sign up at this link.
Roof Above (formerly Urban Ministry Center): Lunches for Roof Above: Looking for a way to help others? We, at SAPC, have committed to helping our homeless neighbors by donating 200 lunches, on the 2nd Saturday, during the months of September through December. We are asking families and/or groups to sign up in increments of 10. You can sign up for one or more slots. Prepared lunches will need to be dropped off on the church porch by 10 am on the designated Saturday mornings. Lunches need to include: 2 sandwiches or a canned protein, fruit, a carb, dessert and a water. They are asked to be brought with any eating utensils needed, a napkin and packed in a paper or gallon sized

bags.

We are looking for lunches on 10/9, 11/13, 12/11
Room in the Inn:

During the coldest time of the year, each Monday from December 1 through March 31 we help Roof Above host some of our homeless neighbors on Monday nights at the church. It's a wonderful way to get involved and to get to know some of our Charlotte neighbors. On each Monday night, we usually host 12 homeless people in our Fellowship Hall and Bowman building. We pick up our neighbors at the RoofAbove main campus and then bring them back to the church for a hot meal together and an evening of movies, fellowship and other activities. We need volunteers who spend the night with their homeless neighbors, serve dinner and breakfast, bring lunches to take with them, and then drive the neighbors back to uptown Charlotte in the morning.

Each year, nearly 5,000 Room In The Inn volunteers throughout the community help in some way across a variety of faith communities: registering neighbors, driving, making dinner and serving dinner, chaperoning overnight, making sandwiches for lunch or simply sharing a meal and conversation.

Check back for opportunities to sign up to join in this effort! And plan to attend our Fellowship Event on Nov 14th from 5-7 to learn more!

In-kind donations needs: Feel free to conveniently donate through our Amazon wish list, below. All items can be dropped at Roof Above, 945 N. College St. campus, between 9am-12:30pm.

Donate items from our Amazon Wish List to help us provide safe winter shelter for our neighbors!
Hunger


Food Pantry support for Montclaire Elementary School Students.

First Sunday Food Drive: Take a Blue Bag, purchase requested grocery items and return to church on the first Sunday of each month to help stock the Food Pantry at Montclaire Elementary School. (Stay tuned for more opportunities to distribute food!)

Rise Against Hunger (formerly Stop Hunger Now)
Sandwich-Making for our Homeless Neighbors

Learn more about SAPC Mission Partners:

Homelessness Partners:

Hunger Partners:

Children in Need Partners:
NOTE: All Selwyn Avenue Presbyterian members who volunteer to work with children should take our church's Child Protection Training every 3 years.