High School Youth
Welcome to SAPC's high school youth group. We are open to all students in grades 9-12! This is a place where you are free to be you in a safe environment that allows you to stand at your fullest height!
Sunday School
High school Sunday school meets from 9:30-10:20am each Sunday in the Bates House. During this hour, we discuss "Big Questions" about living a life of faith as Christians. We explore what it means to be disciples and delve into deep topics and issues together. Come one, come all.
Youth Nights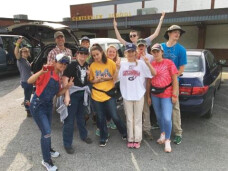 Youth group, for students in Gr. 6-12, meets every Sunday from 5:30-7pm in the Fellowship Hall (includes dinner), and some weekday nights based on scheduled activities. Some weeks we will participate in service work, while other weeks we will focus on biblical themes, social issues and our impact on the world around us, or just simply enjoy our time together in community. We hope you will join us!