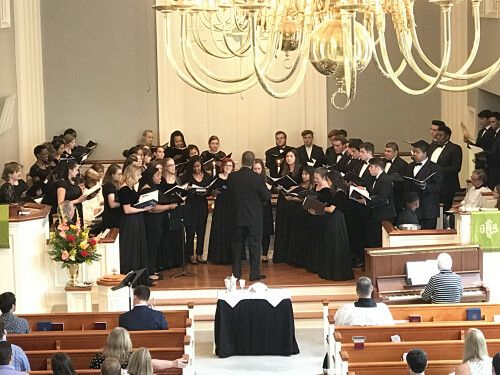 JOIN US FOR SUNDAY MORNING WORSHIP AT 10:30AM. WE ARE IN-PERSON IN THE SANCTUARY AND ALSO CONTINUE TO OFFER THE SERVICE

VIRTUALLY.
Selwyn Avenue offers engaging, traditional Presbyterian worship in a relaxed and inviting community. Our worship, educational and mission opportunities are intentionally focused to reflect the vibrancy of our intergenerational community while we seek to mature in our Christian faith together.
For details on choir practice times and locations, please email our Music Director Fred Spano.
---
Chancel Choir
The Chancel Choir is the primary choir for the worship services. Special music services are held during Advent and Lent. For those services, instrumentalists often accompany the choir from our congregation or from the Charlotte musical community.
---
Selwyn Bells
Performing a wide variety of music and employing advanced techniques, the Selwyn Bells rehearse regularly in the Handbell Room located off the Covenant / Choir room in the Bowman Building. No experience required!
---
Special Choirs
Occasionally, special choirs are formed for specific services. On Rally Day, at the beginning of the school year, we hold a Jazz Music service, using a jazz band for accompaniment. On Mother's Day, we invite all mothers, daughters and grandmothers to join the women of the choir for the Sunday service. During the summer when the Chancel Choir is on hiatus, a special invitation is extended to our congregation to participate in worship. Sharing our gifts with others in worship of God and Christ is always at the center of our mission.
---