STEWARDSHIP AT SELWYN: Face to Face

For now we see in a mirror, dimly,* but then we will see face to face. Now I know only in part; then I will know fully, even as I have been fully known.
- I Corinthians 13:12
… where the Spirit of the Lord is, there is freedom. And all of us, with unveiled faces, seeing the glory of the Lord as though reflected in a mirror, are being transformed into the same image from one degree of glory to another…
II Corinthians 3: 17-18
---
You can make your annual pledge by completing the 2020 Stewardship Commitment Card below and returning it to the church office or by emailing the church accountant, or make your reoccurring or one-time gift online below.
Or
TEXT to Give

1. TEXT (704) 734-9818
2. Enter the gift amount or the word 'Give' or a Keyword*
3. If it's your first time, you will be prompted to SHELBY to confirm set up. After that, you can text the amount to the number.
*Keywords to use:
• GIVE
• COVID (to aid all mission w/Montclaire & Urban Ministry, etc.)
• 75 (Anniversary Fund)
---
---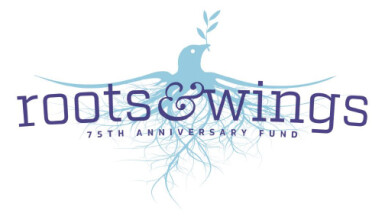 Selwyn truly is an intergenerational community of hospitality and compassion. We seek to know one another and our neighbors in genuine and lasting ways.
The celebration of our 75th year marks a time of both grateful reflection and hopeful action toward the future. We hope to revitalize our facility and communication tools in a way that reflects our identity as a people: engaging, warm, authentic and invitational.
The theme of our 75th Anniversary Fund campaign, Roots and Wings, symbolizes the heart of the campaign and reflects the images in the beautiful stained glass window in our chapel. The gifts of the 75th Anniversary Fund will enable us to protect the integrity and sacredness of our Chapel for generations to come.
You may also email your pledge commitment to the church accountant or call the church office at 704-372-6836.