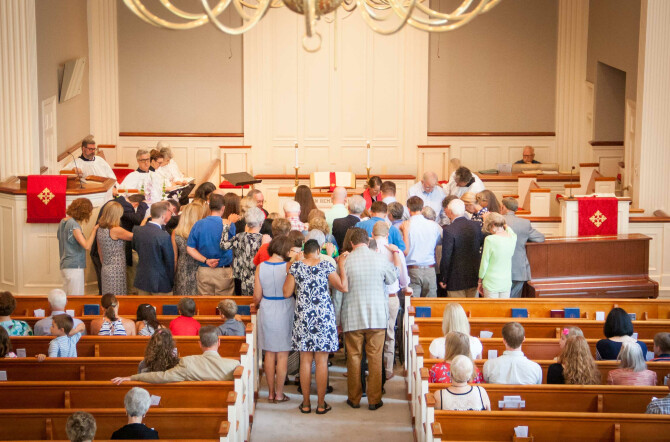 Everyone is welcome at Selwyn Avenue Presbyterian Church. God calls us to love and support one another and our neighbors in authentic and honest ways.
Our Mission
Together, we carry with us the Spirit of God that has been infused in the people of this church for 75 years. We seek to bring the love, light and grace of God to all who wish to receive and participate in the wonder of the teachings, salvation and peace found in Jesus Christ. We prayerfully and thoughtfully move forward to address and respond to a greater level of diversity and higher social awareness.
Selwyn Avenue offers engaging, traditional Presbyterian worship in a relaxed and inviting community. Our worship, educational and mission opportunities are intentionally focused to reflect the vibrancy of our intergenerational community while we seek to mature in our Christian faith together.
We are anchored in the Presbyterian Church U.S.A. and are invested in its mission and education, and together we seek to demonstrating the Kingdom of Heaven to the World.
Selwyn Avenue Presbyterian Church is an authentic community marked by the following:
Joy

Inviting Hospitality
Boundless Care for All Those We Encounter
Living in Covenant of Continuous Care for One Another
Inter-Generational Community
Valuing the Individual
Openness and Transparency
A Willingness to Have the Hard and Honest Conversation
Theological Integrity
The Sharing of Stories in Our Mission Together
Proclaiming the Gospel with How We Live Our Lives
What We Do
Proclaim the Gospel for the Salvation of Humankind
Provide Shelter, Nurture, and Spiritual Fellowship for the Children of God
Maintain Divine Worship
Preserve the Truth
Promote Social Righteousness
Exhibit the Kingdom of Heaven to the World
Adapted from the "Great Ends of the Church" in the PC(USA) Book of Order.
At the Core of Presbyterian Beliefs, we believe in:
The Authority of the Scripture

Justification by Grace through Faith

The Priesthood of All Believers
We believe God is the supreme authority throughout the universe. Our knowledge of God and God's purpose for humanity comes from the Bible, particularly what is revealed in the New Testament through the life of Jesus Christ. Our salvation (justification) through Jesus is God's generous gift to us and not the result of our own accomplishments. It is everyone's job — ministers and lay people alike — to share this Good News with the whole world. That is also why the Presbyterian church is governed at all levels by a combination of clergy and laity, men and women alike.
For a detailed description of what we believe, please click HERE to visit the Presbyterian Church U.S.A.'s website.