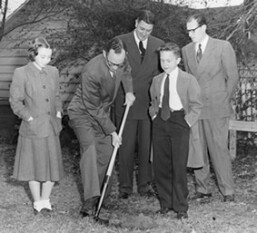 The first service of worship of what was to become Selwyn Avenue Presbyterian Church was held in the Queens College Chapel on November 9, 1941. Those attending had met and discussed the need for a Presbyterian presence in a rapidly growing area of town. The church was formally organized by a commission of Mecklenburg Presbytery on January 11, 1942, with 42 members.
The church quickly purchased land and on October 4, 1942, a new church building was occupied for the first time. Sunday School attendance was 128, with about 160 present for the 11:00 service. Dr. Joseph M. Gettys was the supply minister. The "Selwyn Spirit" was born!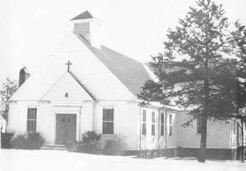 Samuel M. Inman became the first full-time pastor in January of 1943. War-time restrictions created the necessity for improvisations, and an old chicken coop was purchased, moved, cleansed, renovated and used for more than fifty years by the Weekday School, Men's Bible Class and Boy Scouts. A basement was dug under the chapel to help relieve the space shortage.
By 1950 the church's membership had grown to over 300, and plans for a permanent building were underway. Selwyn member Chuck Wheatley was the architect. The educational building, with classrooms on the lower level and the fellowship hall and kitchen above, was erected. The sanctuary was finished in 1954, and the addition known as the Bowman Building was completed in 1965. In 1998, the chicken coop was removed and a columbarium was built.
Love for this church and its existence has been evidenced through the years by gifts in honor of or in memory of loved ones. The stained glass windows and organ in the chapel, the chandeliers, the carillon, handbells, fellowship hall sound system, spiritual enrichment fund and others too numerous to mention attest to the generosity and devotion of Selwyn's people.
Selwyn's history is rich in deeds, but more than that, it is rich in the people who have been inspired, taught and nurtured by the Selwyn Spirit. The spirit and dedication of those who had a vision more than sixty years ago lives on today. They have instilled in us love, joy and caring and we share and expand those feelings through service to our Lord and Savior. Surely the presence of the Lord is in this place.