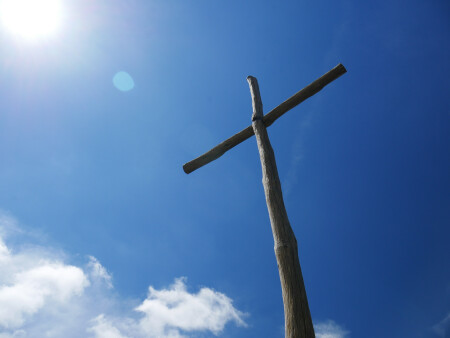 Everything feels different, doesn't it? The novel coronavirus has shaken our world and has proven that 2020 is not going to be what we expected. Together as a nation and world, we find ourselves living with a day by day mentality. Grieving the constant changes, we find ourselves sitting in the emptiness.
Our schools and places of work have closed, our graduations, weddings, and spring trips have been postponed. Our loved ones and the world are sick, our healthcare professionals are exhausted, together we sit in the emptiness and cry out.
Everything has changed…
One of my old professor's Bill Brown, published an article this week where he wrote about the emptiness and grief we are all experiencing and how we have an opportunity this Holy Week to reclaim Easter.
In Bill's article, he reminds us that
"This year we have many reasons to lament, but we need not lament on Easter because we have the opportunity to turn such bane into a blessing by retelling the Easter story in a way that is, in fact, most biblical."
Bill reminds us this Holy Week that "Christ's Resurrection did not begin (or end) with large gatherings of Christians accompanied by choirs and organ blasts. It began with an "empty tomb" and three fearful women—a tomb emptied of death."
This Easter as we sit in our emptiness, sheltering at home. We are reminded of the life-giving emptiness that is the empty tomb. As we leave our churches, schools and places of work, empty, we are testifying to lives that are being saved.
I am thankful for Bill's reminder that "Emptiness, in this case, is life-giving. By abandoning our sacred gathering places, we are not abandoning the gospel. Far from it. We are testifying to what the white-robed messenger announced at the tomb, 'He is not here.'"
The Gospel reminds us that the resurrected Jesus appeared to his disciples in their social isolation.
John 20:19-23
On the evening of that first day of the week, when the disciples were together, with the doors locked for fear of the Jewish leaders, Jesus came and stood among them and said, "Peace be with you!" After he said this, he showed them his hands and side. The disciples were overjoyed when they saw the Lord. Again Jesus said, "Peace be with you! As the Father has sent me, I am sending you." And with that, he breathed on them and said, "Receive the Holy Spirit. If you forgive anyone's sins, their sins are forgiven; if you do not forgive them, they are not forgiven."
2020 is different…and this Easter will be different. But one thing that will never change is that Christ will be with us this Easter. Because God always goes before us and behind us as we journey together with Jesus to the cross and the empty tomb. "Peace be with you!"