Blessing of a Pumpkin Investigation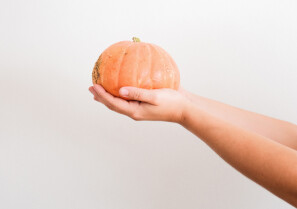 I showed up at Montclaire Elementary school at 3pm as planned. After being shown the routine by the Greater Enrichment Program (GEP) director we ended up at the playground. It was a beautiful and sunny fall afternoon and the kids were swarming around the jungle gym. As the kids started to line up to head back inside, one of them broke out of line and ran up to me to hug me. Several other kids followed suit and before I knew it, I had received 20 hugs by giggling kindergarten and first graders.
I walked back inside with them for their next activity, a pumpkin investigation. I sat down at the table with the kids while the director began our activity. A first grader named Tatiana leaned over to me and whispered, "Do you think we are going to get to touch it? I've never touched a pumpkin before!" Her big brown eyes looked up at me with hope and excitement. I whispered back to her "Yes, I think we will get to touch it, and maybe even see inside it too!" For the next 45 minutes, we observed its color, shape, and size. We counted ridges and inspected the stem. And yes, after much anticipation, we scooped out some goop from the inside and then estimated and counted the seeds in our pile of goop. The excitement and joy these children felt was contagious. Who knew a pumpkin could be so exciting? It was by far the highlight of my week. I didn't really 'volunteer' at Montclaire that day, I just joined in the fun and spent some time with my young neighbors.
After much prayer and discernment, Selwyn Avenue Presbyterian Church has made a deeper commitment to Montclaire Elementary School. Thanks to a mission tithe commitment in our 75th anniversary fund, this fall we began a new relationship with Montclaire and the Greater Enrichment Program. GEP provides afterschool and summer enrichment for 50 Montclaire students. This number will grow to 100 Montclaire students for the 2020-2021 school year.
One of the ways in which we as Christians are called to show our love for God and to practice our faith is by loving our neighbors. This call to love is not merely having a fond affection or feeling for our neighbors in which we wish them well. This love is actually a call to action requiring intentional effort on our part. It's a verb, not a noun.
Our new partnership with Montclaire and GEP is one of many opportunities at Selwyn to love (verb) our neighbors. We have the opportunity to join in the fun, to spend time with these students and to catch more of their contagious enthusiasm and joy. We are now seeking people to come and spend time with the students at GEP. What can you do?
We are looking for people to:
- assist with homework
- play or lead games with the children
- chaperone field trips
- run 4-6 session 'clubs' for the kids in areas such as art, knitting, gardening, yoga, golf, cooking or whatever you can dream
The possibilities are endless and time commitments are flexible!
I hope you'll find a way to get involved. If not at Montclaire, at one of the other opportunities to love our neighbors through Selwyn. Like me, you will leave with far more than you came with!
My command is this: Love each other as I have loved you. -- John 5:12