The Joy of a Pink Flamingo Necklace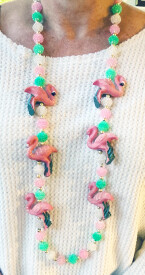 A note, concert tickets, a piece of jewelry? What's a gift you have been given that you have never forgotten?
For me it is a bright pink, plastic flamingo necklace from the NC State Fair. It's quite tacky, really. But it was given to me 15 years ago by my five year old daughter who was attending the fair with her grandparents. While she was souvenir shopping she spotted it. After a gasp of delight, she declared it must be purchased for me, her mom. That necklace was what she wanted as her souvenir, a gift for me. Of course her grandparents obliged her request and then made sure she found something for herself as well. I will never forget the delight on her face as she presented the pink flamingo necklace to me. I cherish it to this day and often wear it on Thanksgiving in remembrance and gratitude for the gifts I've been given.
Of course we all like to receive a gift. But as her parent, seeing the joy she found in giving a gift to someone else is part of what makes this flamingo necklace gift so special.
On this Giving Tuesday and as we begin Advent season, I remember the words of Apostle Paul in the book of Acts 20:35
In everything I have shown you that, by working hard, we must help the weak. In this way we remember the Lord Jesus' words: 'It is more blessed to give than to receive.'
I hope we have all experienced the blessing of giving to someone else. This is the season of giving after all. Giving... of gifts to others, of our time, our money and our abilities. Today is Giving Tuesday, a global movement that is observed once a year. The movement was started in 2012 as a way to transform the world with acts of generosity, "GivingTuesday strives to build a world in which the catalytic power of generosity is at the heart of the society we build together, unlocking dignity, opportunity and equity around the globe."

Giving of ourselves and giving of our finances are just two of the ways in which we love God, and love our neighbor. Selwyn has many ways in which you can give to others this Giving Tuesday and throughout the Advent season.
As a church, we continue to focus on Mission in areas of Hunger, Homelessness and Children in Need. We have a variety of ways in which you might participate.
The first way is to prayerfully consider your estimate of giving for 2021 by pledging this stewardship season. Pledges allow for the church to plan how we might continue to extend God's hands to our partners here in Charlotte.
This season we have a Mission Giving Tree with Montclaire Elementary teacher classroom requests and items for Roof Above neighbors such as hats, blankets and socks, or items for housing kits for those moving into housing.
We are collecting food for the Montclaire Elementary Food Pantry. We hope to deliver 300 lunches to Roof Above on December 19th, and there is an ongoing need for lunches everyday. We have links to sign up for all these opportunities so you might bless others this Giving Tuesday and Advent season, and experience the joy of giving.