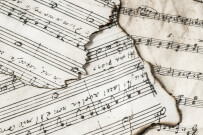 A generous designated gift was made to the church to provide more frequent professional guest musicians during the 10:30am worship on Sundays. We are deeply grateful for this fund, and invite the entire congregation to join us this Sunday, April 7th.
---
The Music:
Requiem in C Minor, MH 155 (1771) by J. Michael Haydn will be the focus of
service. The work was written mixed choir; soprano, mezzosoprano, tenor, and bass soloists; orchestra and continuo.
The Performers:
We are pleased to have 14 guest musicians joining the Selwyn Family and
Chancel Choir that morning. They are: Christina Pier, soprano; Martha Bartz, mezzosoprano; Brian Arreola, tenor; David Clark, bass-baritone; David Russell, violin; Rebecca Garvey-Ray, violin; Lenora Legatt, violin; Jenny Topilow, violin; Mira Frisch, cello; Gay Pappin, organ/continuo; Selwyn Chancel Choir with Jasmin Cropper, Nicholas Matherly, CC Mguyen, Amber Ward, and Tia Wilson
The Background:
Johann Michael Haydn (1737–1806) spent most of his musical life in Salzburg,
Austria, in the employ of Prince-Archbishop Sigismund Graf Schrattenbach for whom he worked for 43 years. He served the Archbishop as both court musician and concertmaster, and the two formed a very close friendship over the years. Like his famous brother Franz Joseph (1732–1809), Michael found fame through his compositions, especially those for the church with masses, festivals, celebrations, and of course, requiem masses.

This particular work was written in a period of two weeks in late 1771 for the requiem mass following Schrattenbach's death. Haydn's own daughter, born in 1770 and who lived less than a year, preceded the Archbishop's death adding to Haydn's grief. The musicologist Charles Sherman (1991) speculates that the two deaths contributed to the rapidity of writing and the genius of this composition. Indeed, there is a "depth and passion intensity that illuminate this work" (p. iv).

Haydn's requiem mass has nine movements (sections) with the "sequence" being set as one extended movement. The chorus shares the roles of the bereaved and of the departed soul(s) with a quartet of soloists throughout the work.
The influence of this piece on Mozart's Requiem (1791) can be heard instantly in the opening "Introitus" as well as other movements. In fact, at the first presentation of the Requiem for the Archbishop's mass, the young Wolfgang and his father Leopold Mozart were part of the orchestra for the service. This work ushered in the full maturity of M. Haydn's compositional style, and Haydn is considered one of the finest composers of the Classical Period.