Lent 101: Let Us Prepare Together
If you watched me bake cookies, you would notice that I do one thing at a time. I preheat the oven, then get the pan ready, and then take out the mixer. I pull out one ingredient at a time and add it to the bowl. I pull out another one and add it. And then another. And then another. I thought this was the way everyone cooked until I watched someone baking on TV. Instead of taking out one ingredient at a time the chef had prepared all of the ingredients in separate bowls ahead of time. When it was time to make the cookies, the chef was prepared and ready to enjoy the process.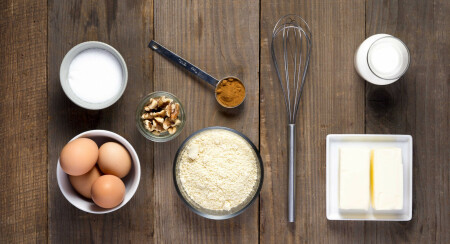 Lent reminds me of these cooks and their process because Lent is all about preparation so you can enjoy what is to come (the most meaningful Christian day on our calendar – Easter! The time when we celebrate Jesus' life, death and resurrection).
Easter is such a mind-blowing expression of sacrificial divine love that it is worth preparing ourselves to get the most meaning (and feeling) from it.
In the simplest terms, Lent is 40 days set aside to prepare for Easter – beginning with Ash Wednesday and ending with Holy Saturday (the Saturday before Easter).
Ash Wednesday, also known as the imposition of ashes, derives its name from the practice of placing ashes in the shape of a cross on our foreheads as a reminder that we are temporary beings and it is only God who can conquer death and give the gift of eternal life. In other words, we remember we are finite and sinful (a bit of a mess) and we need God.
Lent, which comes from the Greek word for "fortieth," is a time for us to focus on our relationship with God and draw closer through self-reflection and spiritual activities such as prayer, meditation, repentance/confession, worship, fasting (giving up something), Scripture reading, serving others, etc. These spiritual "disciplines" allow us to open ourselves to God so we can grow in our faith, in our gratitude for God's undeserved love, and in our own self-understanding as children of God.
If you are someone who likes to count things, you may realize that there are more than 40 days between Ash Wednesday (March 6) and Easter (April 21). During this serious time of reflection and preparation for Good Friday and Easter, we continue to have mini-Easters (which are Sundays) where we continue to celebrate all the Jesus has done for us. If you are counting the days, the Sundays don't count because they are an important reminder of the ultimate story.
The church staff hopes you will set aside time during Lent to prepare for the amazing gift of Good Friday and Easter. Join in our various events and offerings taking place or contact one of us to talk about what it might mean to deepen your relationship with God.
If you prepare, you never know what God might cook up for this Easter.