If you could wish for anything -- what would it be?
If you could wish for anything – what would it be?
I would like a place where they would be safe.
I would like a place where they would be fed.
I would like a place where they would get enrichment, have fun and just be kids for a while.
It would be amazing if we could have a year-round after school program for the students at Montclaire Elementary and their families.
If you could wish for anything, what would it be?
It would be an after-school program.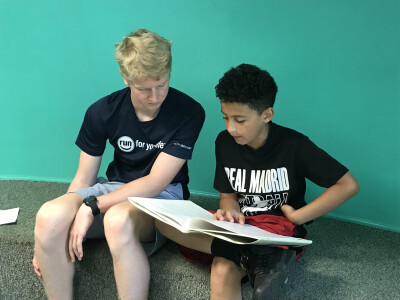 This was the question posed to Montclaire's administrative team by John Lemmon, Ellen Harris, and myself during one of our meetings, and this was the principal's answer.
And just like that – a seed of possibility was planted.
After school programs don't grow on trees and they are expensive. We began praying and wondering what God might do.
Within a few months a Children's Focus Group was formed and Ashley Armistead, Andy Johnston, and Denise Pineno joined in reviewing our Montclaire ministry. And very quickly everyone agreed to explore after school programs since that was their greatest need.
God's fingerprints were all over the process . . . the people we "happened" to meet, the conversations we "happened" to have, locating two programs interested in expanding to a school like Montclaire, the unity within the group in consistently reaching consensus in our decision-making (Allison Tibe joined the group along the way), and the enthusiastic and unanimous support from the Session to use monies from the Capital Campaign Mission Tithe to begin something new and important . . .
. . . And miraculously, there will be an after-school program at Montclaire THIS FALL for 50 students and NEXT FALL for 100 students once Montclaire's new school opens – thanks to God's Spirit at work and the Mission Tithe from the Capital Campaign.
We are very excited about the After School Program! (1) The after school program incorporates all three of the mission areas – children, hunger, and homelessness. (2) It enhances our partnership with Montclaire by helping bring another strong partner to Montclaire teachers, administrators, students, and families. (3) We hope the after school program is a new way for intergenerational involvement and relationships at Montclaire.
The principal got teary when we shared the news.
And our new after school partner the Greater Enrichment Program (GEP) even included a gratitude section in its Memo of Understanding:
We at GEP want to close with an expression of gratitude for your confidence in us. We would also like to acknowledge the beautiful way in which God has taken His hand to combine us and encourage us to creatively serve His children. We hope to be a long term deserving partner of SP and are excited about the future He lays out ahead of us, together!
Amen! Praise be to God!