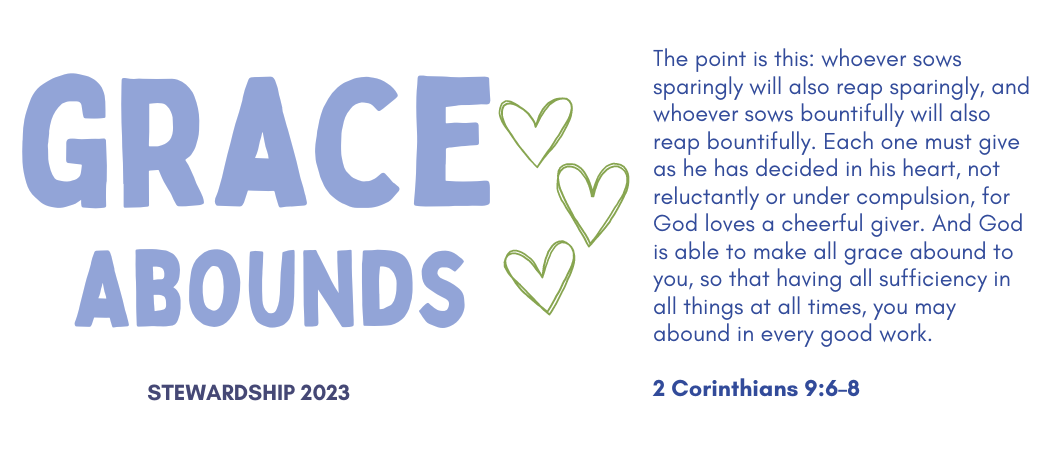 We have seen God's work this year as we returned safely to in person worship, welcomed new voices to the choir, and witnessed Selwyn children and youth joyfully engage in Vacation Bible School, Montreat Youth Conference, Middle School Mission Retreat, and Appalachia Service Project. Fall planning is underway with children's choir, worship readiness class, new adult classes, youth group, PW circles, Bible studies, mission partnerships, fellowship events and more.
God's grace abounds!
We come to you in the start of a new stewardship campaign hopeful we can once again increase our total annual giving amount. As disciples of Selwyn Avenue, God calls us to care for the well-being of our church community and make a commitment to fulfill the vision and mission of our church. This vision is felt inside our walls through vibrant worship services and programming, deep meaningful relationships, and outside our walls through important mission work in support of our most vulnerable neighbors.
Considering all of this, we took inspiration from 2 Corinthians 9:6–8.

"The point is this: whoever sows sparingly will also reap sparingly, and whoever sows bountifully will also reap bountifully. Each one must give as he has decided in his heart, not reluctantly or under compulsion, for God loves a cheerful giver. And God is able to make all grace abound to you, so that having all sufficiency in all things at all times, you may abound in every good work."
As a congregation, a strong stewardship season gives us the power to change lives for the better. The love we feel in our hearts and together as a group is directed internally, to those going through difficult times, and externally, to those profoundly affected by the current situation.
SAPC is 100% funded by current pledges and donations. In order to keep our programming and mission work at current levels, we need to both increase our giving base and our level of donation.

---
You can make your annual pledge by completing the 2023 Stewardship Commitment Card and returning it to the church office or by emailing the church accountant, or make your reoccurring or one-time gift online below.