SUNDAY SCHOOL
At Selwyn, our programming is designed to take full advantage of our intergenerational community and our commitment to authentically knowing each other for who we are. By engaging our heads and hearts through careful study and passionate discussions, we explore how to live as disciples in our relationships, vocations and in the world.
Each Sunday School class has an open chair just for you, and you are encouraged to visit anytime. We welcome you to join us for Sunday School, 9:30-10:30am.
Sunday School for Adults
Faith seeking understanding. A life of discipleship requires a lifetime of learning. Faith and Doubt are two sides of the same coin. Here are Selwyn, we welcome both.
"Faith seeking understanding," takes form as our Intergenerational Congregation places a high emphasis on the quality of relevant and reformed Christian Education.
What does this mean? It means a life of discipleship and faith requires a lifetime of questioning and learning. Faith and doubt are two sides of the same coin, and here at Selwyn we welcome both.
With our various Adult Sunday School classes, there is a place for everyone to learn, dig, question, laugh and grow in faith together. These classes meet from 9:30am-10:30am in different formats throughout the year.
Fall Programming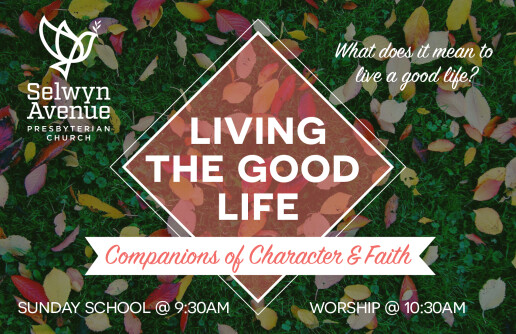 Living the Good Life: Companions of Character and Faith
What does it mean to live a good life? What does it mean to be a good person? By learning & talking together during the 9:30 hour, we will explore various Christian virtues such as kindness, friendship, courage and humility. Classes will be united by theme while varying in format and focus.
FALL BOOK SELECTIONS:
The Character of Virtue: Letters to a Godson by Stanley Hauerwas
The Road to Character by David Brooks
Topics of Discussion from The Character of Virtue:
Oct. 27: Courage (pg. 108) Isaiah 41:10
Nov. 5: Joy (pg. 118) 1 Peter 1:8-9
Nov. 12: Simplicity (pg.125) Matthew 5:37
Nov. 19: Constancy (pg. 134) Deuteronomy 6:5
Nov. 26: Humility & Humor (pg. 144)
Dec. 2: Temperance (pg.157) Galatians 5:25
Dec. 9: Generosity (pg.167) 2 Corinthians 8:2-9
Dec. 16: Faith (pg. 177) Hebrews 11:1
Dec. 23: Character (pg.186) Romans 5:3-5
The Faith Lab:
Faith in Action. Rubber meets the road as we focus on life, relationships, vocation and parenting. The Lab is open to EVERY adult who chooses to commit to a series and most series culminate with a celebration in worship. Very often your children will be learning concurrently about the same topics.
Open to All Adults, Sundays at 9:30am
September 16-October 7
Exploring Worship: Learn to prepare our children for worship, baptism, communion and prayer. Kindergarteners will be formally welcomed to the Lord's Table in our worship service on Sunday, October 7.
November 4-18
Your Child, Their Faith: Equip your child for a life of faith through scripture.
Sunday School for Children
PreK-5th Grade: Students will participate in our four-week series on worship, baptism, communion & prayer.

Beginning October 14, we will journey through the book of Exodus and hear tales of God's courageous people crossing the border into Egypt, seeking refuge from a drought and ensuing famine.
Sunday School for Youth
Grades 6-7: Exploring the New Testament through the life of Jesus and the early Church.
Grade 8: Confirmation - Students explore their faith in preparation to become members of the Church.
Grades 9-12: Faith IRL - Honest Conversations About Things That Matter
Sunday Evenings for Youth
Youth Group: Sundays in the Bates House
Middle School (Gr. 6-8): 5-6pm
Youth Family-Style Dinner: 6pm, Fellowship Hall
High School (Gr. 9-12): 6:30-7:30pm
All youth are welcome to join us on Sunday nights, and all family members are always welcome at the table for our Sunday dinners!
For information about Christian Education, email .