SUNDAY SCHOOL
At Selwyn, our programming is designed to take full advantage of our intergenerational community and our commitment to authentically knowing each other for who we are. By engaging our heads and hearts through careful study and passionate discussions, we explore how to live as disciples in our relationships, vocations and in the world.
Each Sunday School class has an open chair just for you, and you are encouraged to visit anytime. We welcome you to join us for Sunday School, 9:30-10:30am.
Sunday School for Adults
Faith seeking understanding. A life of discipleship requires a lifetime of learning. Faith and Doubt are two sides of the same coin. Here are Selwyn, we welcome both.
"Faith seeking understanding," takes form as our Intergenerational Congregation places a high emphasis on the quality of relevant and reformed Christian Education.
What does this mean? It means a life of discipleship and faith requires a lifetime of questioning and learning. Faith and doubt are two sides of the same coin, and here at Selwyn we welcome both.
With our various Adult Sunday School classes, there is a place for everyone to learn, dig, question, laugh and grow in faith together. These classes meet from 9:30am-10:30am in different formats throughout the year.
Lenten Sunday School Series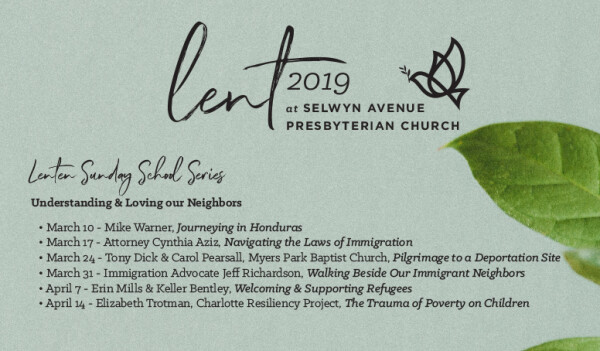 Sunday School for Youth
Grades 6-7: Exploring the New Testament through the life of Jesus and the early Church.
Grade 8: Confirmation - Students explore their faith in preparation to become members of the Church.
Grades 9-12: Faith IRL - Honest Conversations About Things That Matter
Sunday Evenings for Youth
Youth Group: Sundays in the Bates House
Middle School (Gr. 6-8): 5-6pm
Youth Family-Style Dinner: 6pm, Fellowship Hall
High School (Gr. 9-12): 6:30-7:30pm
All youth are welcome to join us on Sunday nights, and all family members are always welcome at the table for our Sunday dinners!
For information about Christian Education, email .