SUNDAY SCHOOL
At Selwyn, our programming is designed to take full advantage of our intergenerational community and our commitment to authentically knowing each other for who we are. By engaging our heads and hearts through careful study and passionate discussions, we explore how to live as disciples in our relationships, vocations and in the world.
Each Sunday School class has an open chair just for you, and you are encouraged to visit anytime. We welcome you to join us for Sunday School, 9:30-10:30am.
Sunday School for Adults
Faith seeking understanding. A life of discipleship requires a lifetime of learning. Faith and Doubt are two sides of the same coin. Here are Selwyn, we welcome both.
"Faith seeking understanding," takes form as our Intergenerational Congregation places a high emphasis on the quality of relevant and reformed Christian Education.
What does this mean? It means a life of discipleship and faith requires a lifetime of questioning and learning. Faith and doubt are two sides of the same coin, and here at Selwyn we welcome both.
With our various Adult Sunday School classes, there is a place for everyone to learn, dig, question, laugh and grow in faith together. These classes meet from 9:30am-10:30am in different formats throughout the year.
Summer Programming
Community Book Talks & Discussion: The Book of Joy
June-August, 9:30am
Fellowship Hall
Join us each week as discuss this wonderful book.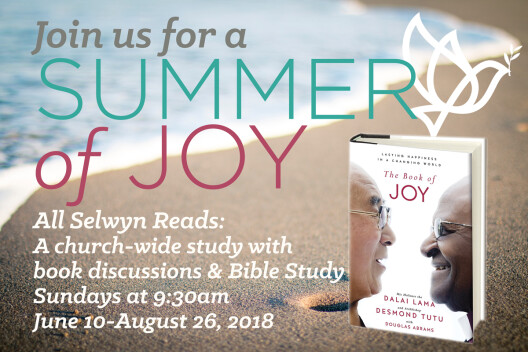 The Faith Lab:
Faith in Action. Rubber meets the road as we focus on life, relationships, vocation and parenting. The Lab is open to EVERY adult who chooses to commit to a series and most series culminate with a celebration in worship. Very often your children will be learning concurrently about the same topics. Faith Labs gather in the large classroom in the Bowman Building.
Sunday School for Children
This year we will be traversing through the Old and New Testaments with a particular eye on what it looks like, sounds like and feels like to live as people of God.

Children, K-5th grades, will gather for their Bible story, song and prayer and then break into two groups (K-3rd grades & 4-5th grades) to explore the theme of discipleship with hands-on activities relating to the missional life of Selwyn.
Sunday School for Youth
Grades 6-7:


Our 6th and 7th graders will gather together to build on their experiences in our children's ministry. Often considered to be the most formative years of adolescence, we walk alongside our youth as they deepen their faith by rooting themselves in the rich history found in the New and Old Testaments. While working through some of the Old Testament books may sound tedious, we are sure to have a good time doing it!

Grade 8:


8th grade youth have a separate gathering with the intent of being confirmed at the end of the school year. Confirmands choose mentors to guide them through confirmation and faithfully meet with them throughout the process. These youth will revisit the biggest hitting ideas from both the New and Old Testaments. A main focus will be on the history and polity of the Reformed tradition and the Presbyterian Church.

Grades 9-12:


Our high school youth in grades 9-12 meet on Sundays to address the "Big Questions." Issues and topics they address range from ideas that may have eluded them during confirmation, to issues that affect their daily lives as teenagers. It's real talk for real people!
Sunday Evenings for Youth
Youth Group: Bates House
Our youth group meets on Sunday evenings and is broken into middle school (grades 6-8) and high school (grades 9-12). Middle school meets from 5-6pm and high school meets from 6:30-7:30pm. The vibe is a bit less formal than Sunday school and a bit more social.

The highlight of our night is a family-style dinner gathering in between the two meetings from 6-6:30pm for some old-fashioned breaking of the bread. All youth are welcome to join us on Sunday nights, and all family members are always welcome at the table for our Sunday dinners!
For information about Christian Education, email .